If you are anything like me getting out of the bed on a Tuesday morning is tough. The smell of fresh coffee makes the morning a teeny bit easier, add a cute coffee mug and I'm ready to take on the day! In honor of National Coffee Day I'm sharing my favorite coffee mugs to help make your day a little brighter. Now if only that coffeemaker could brew out wine in the morning!
I love the wintery feel of this precious cross stitch coffee mug. Perfect for fall!
Stitched Up Coffee Mug
This is a coffee mug I think both Dino Boy and I would enjoy! 
Antler Mug
This crabby mug reminds everyone around you to stay away until it's empty!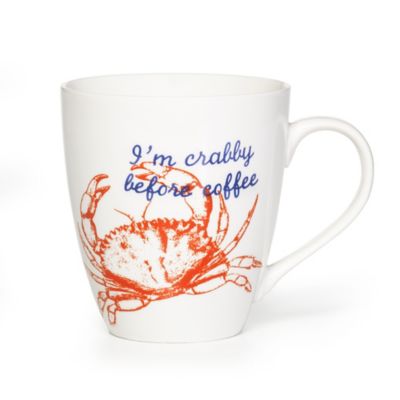 "I'm Crabby Before Coffee" Mug
This is the perfect fall mug. How can you not smile with this adorable fox!
 Fox Mug
This stacking mug set is perfect for little cabinet space and a fun piece of decor!
Under the Sea Stacking Mugs
And why not display them all on this funky mug rack?